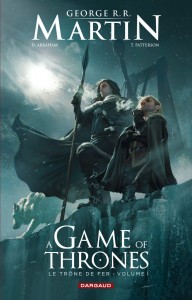 Qui ne connaît pas encore A Game of Thrones (Le Trône de fer pour nos amis français qui adorent traduire les titres n'importe comment) ?
Ces 3 romans issus de l'imaginaire de George R.R. Martin et qui sont déclinés en série réalisée par la chaîne américaine HBO qui entamera sa troisième saison le 31 mars prochain et dont la RTBF diffuse la première saison en VF (mes oreilles) les dimanches soirs sur La Deux et en VO (fort heureusement) sur La Trois en fin de soirée du lundi.
Et bien A Game of Thrones est maintenant disponible en bande dessinée au format comics !