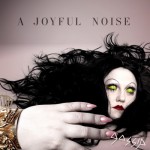 Ce jeudi 3 mai 2012, j'ai pu assister, grâce à un twunch (évènement Twitter) organisé par Sony, à une pré-écoute du nouvel album de Gossip, A Joyful Noise.
N'étant pas un grand fan du groupe au départ et ne connaissant que les tubes de leur album précédent, Music for Men, je m'y rendais plein de curiosité.
En présentant ce nouvel opus, Beth Ditto a déclarée avoir passé une année à écouter du ABBA sans écouter la radio, et cela se ressent dans une grande partie des morceaux de l'album tout comme leur collaboration avec Brian Higgins (Pet Shop boys, Kylie Minogue).
Voici quelques réactions issues du live-tweet :
#kiadi Involved on dirait du Madonna sous acide #gossiptwunch

— Xavier Thiriaux (@xavierthiriaux) May 3, 2012
En tout cas, on entend qu'elle à écouté du Abba et s'est fait produire par le gars derrière le son de Kylie Minoque #gossiptwunch

— Yann Lebout (@ylebout) May 3, 2012
On sent clairement les influences "I spent the whole year listening to Abba" 'move in the right direction' #gossiptwunch

— Tom Vea (@TomVea) May 3, 2012
We can clearly hear the Bryan Higgins's touch in "Get a job" #gossiptwunch

— Tom Vea (@TomVea) May 3, 2012
Gossip's 'A Joyful Noise' has been produced by Brian Higgins, the guy behind Sugababes. Not sure if that's a good thing. #GossipTwunch

— Davy Buntinx (@dbuntinx) May 3, 2012
Pour conclure, même si l'album présente une grande proportion de chansons moins rock que l'album Music for Men, il se laisse écouter sans aucune difficulté et devrait proposer quelques bons titres à diffuser en radio.
Premier extrait de l'album, Perfect World